The Daylilies are starting to bloom. It's been a long slow start to a much anticipated season. This is the year that my first hybridizing efforts should begin their maiden blooms in earnest. Sadly I have had to destroy a number of buds due to Daylily Midge infestation, which has prolonged the wait. A small number of the buds are affected, usually what would of been the firsts to bloom, so it's excruciating to lose those in particular.
I had a flower bloom today that I wasn't able to stop admiring all day long. When I first saw it partly open, I was ready to move it to the sale table, as just a nice purple with a darker eye. By the end of the day it had gone to the relegation of keeper, to stud, to dreams of introductions.
This bloom out of Going Bananas x Cool Blue Breeze is hard to describe, it took me hours to decide what colors I was seeing. I in the end am going with amber, but pale Gold Apricot also works. The eye is a pure Crimson, and hints of this appear as a hot pink Cerise overlay that is darker along the midribs. It's a very warm combo pretty as a sunset, with lots of diamond dusting. There are even some of the veining I am interested in so I can justify keeping it as part of my breeding goals. Yikes I hope I don't feel I need to keep all my new bloomers, I still have about 1,200 to go, so far two out of three I am considering keeping. This could develop into a serious problem! Here is my flower, the picture does not do her any justice whatsoever, but I think Great Gramma Stella would approve.
Maiden bloom 24" scapes 6" bloom
Going Banana's is one of the best re-bloomers out of the popular Happy Returns which is an improved Stella baby. Going Bananas flowers are twice the size of it's Mom and Gramma at 4"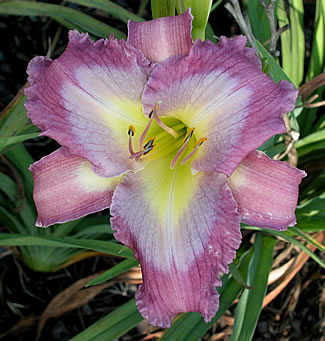 Cool Blue Breeze is another re-bloomer with a high bud count. It is a Lavender Purple with a huge blue watermark. 36" scape 6" bloom.
I used her pollen on Lilywood Orchid Tones, and the other new baby I pulled off the sales bench to keeper land. Lilywood Orchid tones is one of the flowers I am using in my veining program. It has two flowers in it's background, Joseph's Coat, and Elfin Etching that show up in patterned eye breeding I believe may be also good genetics for veining.
The other flower has been talking to me for the past few days, it also has a beautiful amber tone, although it is a yellow. It is a seedling out of Mahukona x Statuesque, with the beautiful coloring of it's pod parent Mahukona.
Mahieu Volcano series
Creped and diamond dusted polychrome of coral pink, melon and gold -- gold to chartreuse throat and coral pink coloration. 36" tall with 8.5" blooms.
A five foot tall dramatic yellow.
From Arlow Stout of the New York Botanical Garden, who Registered it in 1956 as follows:
" 60 in. height. Midseason. Clear empire yellow. Fragrant. Extended
bloom (open at least 16 hours). Dormant foliage. "
Height and beauty combined, the flowers are bright yellow and a bit ruffled.
Several flowers often open at once on a single scape, creating
a profusion of bloom on even the youngest clumps.
Up to 65 buds.
I used Joseph's Coat pollen on my Going Bananas x Cool Blue Breeze A
rose beige with yellow halo and purple eye with rust veins above green throat . 28' Scapes and 7" blooms
I think they will have nice children.